Deploy Managed Cloud Services In A Safe, Versatile And Reliable Network
---
The cloud has been revolutionizing the hosting and deployment of websites with the ease of providing clients with a common platform to collaborate and manage their activities. Our cloud services provide you cost-effective, business efficient solutions where you no longer need to buy platforms for deployment!
We provide you with hassle free managed cloud services(SaaS/PaaS) to ease your hosting needs. Our services are tailored according to your requirements and the new upgrades and functionalities required by the user are implemented and distributed among the clients efficiently within the required time-frame.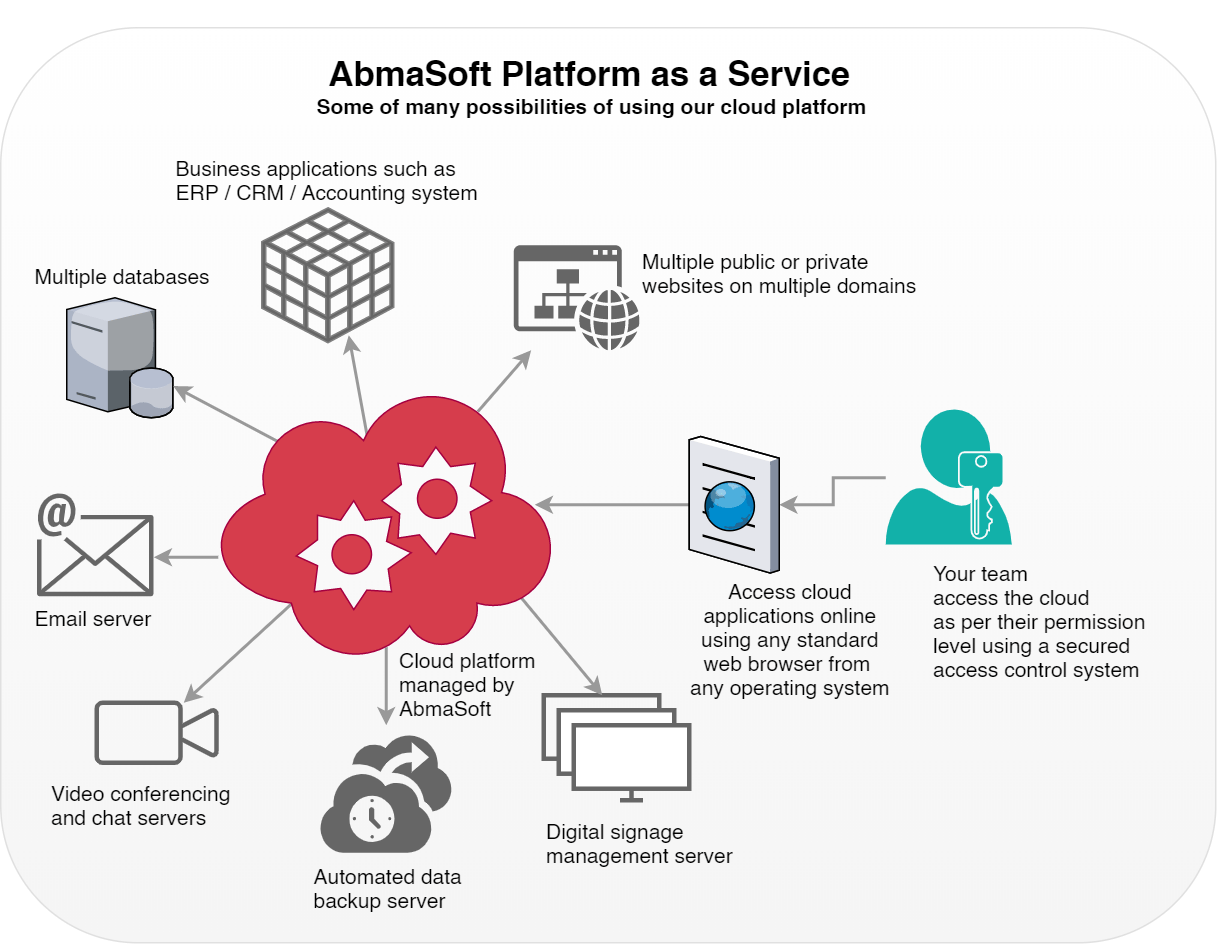 Deploy faster, Scale easier with PaaS
---
SaaS (Software as a Service) has gained noticeable popularity with its numerous advantages including lower initial costs of investment, easier upgrades, quick setup and deployments, and scalability.
On the other hand, PaaS(Platform as a Service) provides a full-fledged development and deployment environment in the cloud which includes testing, QA, deployment as well as debugging tools and services. Choosing between SaaS or PaaS depends solely on your requirements. However, Abmasoft is determined to make an unparalleled stack of cloud benefits that combine to give you the most adaptable framework to your online presence, completely managed by compatible human resources.
Our Partners
We partner with the world's top cloud providers to provide reliable and maintainable services. Some of our cloud partners include, but are not limited to:
Microsoft Azure
Amazon Web Services (AWS)
Google Cloud
Cloud Benefits With Us
With our cloud providing services, we remain unbeatable for our simple pricing. Spend your assets on what you 'actually' need and pay only what's required.
We provide you with high performance cloud platforms and low latency networks to make sure that the services provided matches your organization needs. Cloud benefits with us include:
Secure Cloud Platforms
Automated Backups
Online Billing Options
Scaling Resources
Cloud Firewalls